Convidecia – Single shot for faster protection
Name:

Recombinant COVID-19 Vaccine(Adenovirus Type 5 Vector)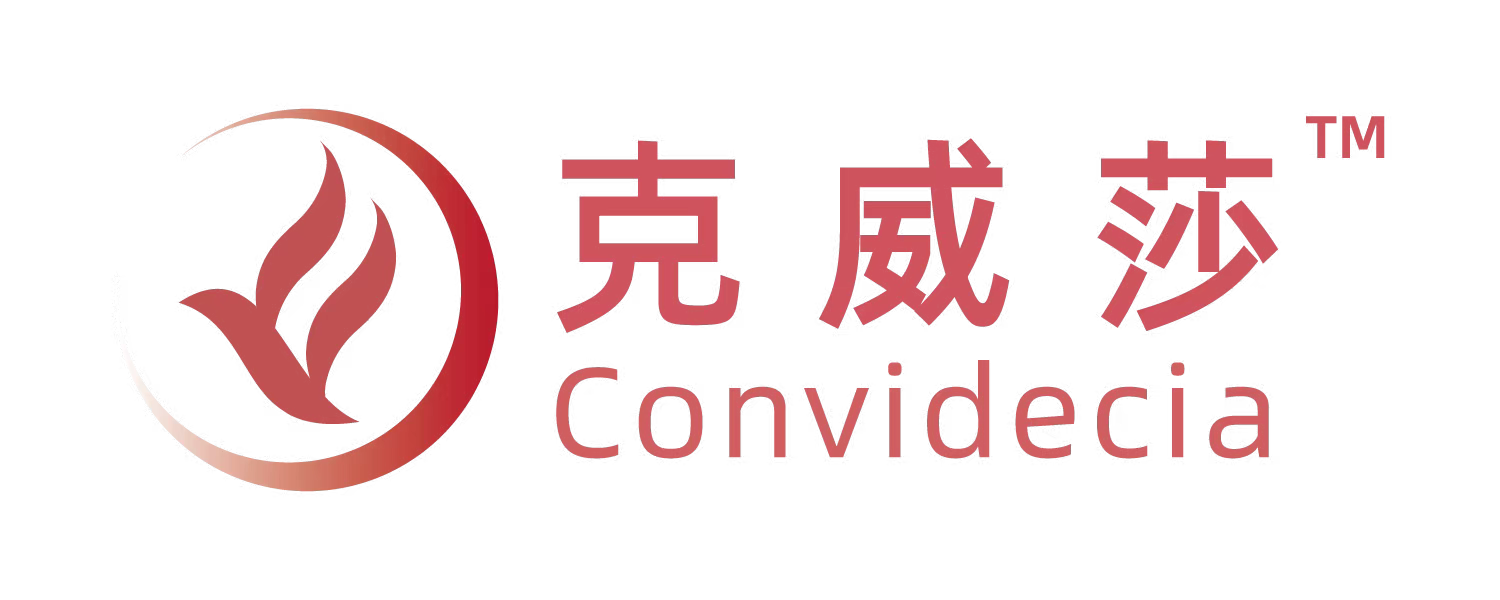 Convidecia
Convidecia
Convidecia is a Recombinant Novel Coronavirus Vaccine (Adenovirus Type 5 Vector) co-developed by CanSinoBIO and the Beijing Institute of Biotechnology, Academy of Military Medical Sciences. Convidecia received conditional approval by China NMPA on Feb 25th, 2021.
The main features are as follows:
Single shot for quick protection 14 days after vaccination

14 Days: 68.83% effective in preventing all symptomatic COVID-19 disease and 95.47% effective in preventing severe COVID-19 disease
28 Days: 65.28% effective in preventing all symptomatic COVID-19 disease and 90.07% effective in preventing severe COVID-19 disease
Induces significant humoral and cellular immune response, providing dual protection
Better cost-effectiveness

Reduces the cost and workload for vaccination
Increases the compliance for vaccination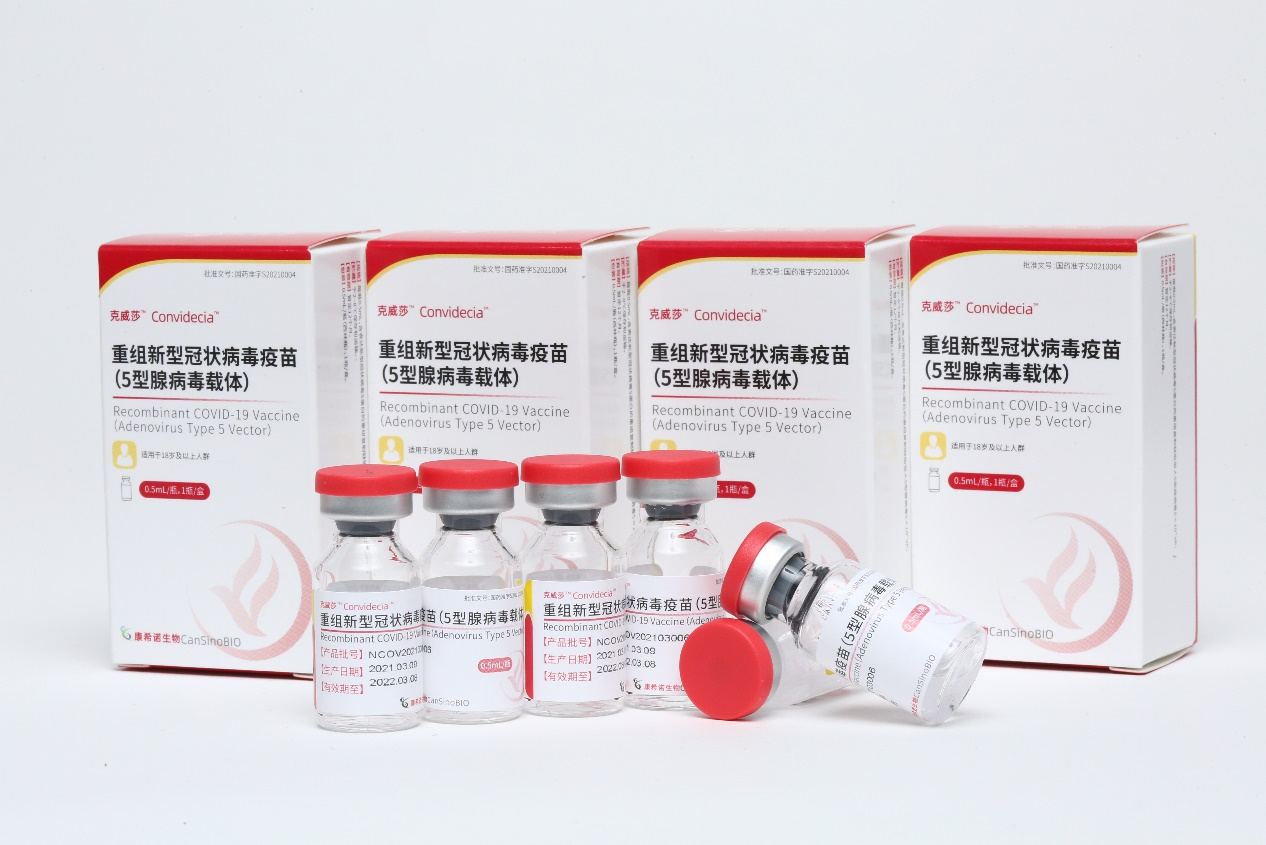 The science
SARS-COV-2
SARS-CoV-2 is a positive-sense, single-stranded RNA virus. It is a virus of the species severe acute respiratory syndrome–related coronavirus (SARSr-CoV). The virus primarily spreads between people through close contact and via respiratory droplets produced from coughs or sneezes. It mainly enters human cells by binding to the angiotensin converting enzyme 2 (ACE2).
[1]
Antibodies directed to S protein can neutralize the virus and prevent infection. S protein is the major target of neutralizing antibodies to coronaviruses.
[2]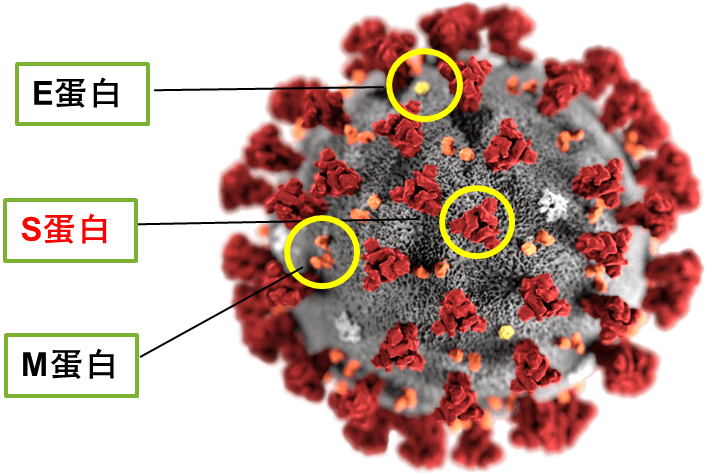 SARS-COV-2 Centers for Disease Control and Prevention/AFP/File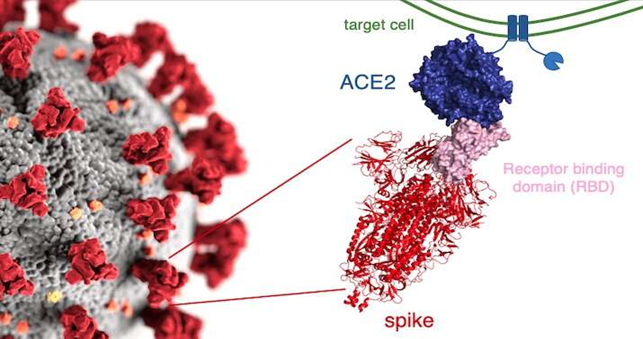 SARS-COV-2 infects host cells through the binding of its spike protein to host cell surface receptor ACE2 / A New Map Catalogs the Effects of Coronavirus Mutations
The spread of SARS-COV-2 is mainly through COVID-19 patients and asymptomatic carriers. People who get infected with SARS-COV-2 can spread it during the incubation period and are most contagious 5 days after the symptom onset. COVID-19 is primarily transmitted from person-to-person through respiratory droplets and close contact and can also be transmitted through touching contaminated objects and aerosol.
[3]
Anyone can get sick with COVID-19 and become seriously ill or die at any age. The most common symptoms of COVID-19 are fever, dry cough and fatigue. Among those who develop symptoms, most (about 80%) recover from the disease without needing hospital treatment. About 15% become seriously ill and require oxygen and 5% become critically ill and need intensive care. People of all ages who experience fever and/or cough associated with difficulty breathing or shortness of breath, chest pain or pressure, or loss of speech or movement should seek medical care immediately.
[4]
COVID-19 pandemic
COVID-19 is a new acute respiratory infectious disease and has become a public health emergency of international concern. With strict prevention and control and medical treatment, China has successfully contained COVID-19 domestically, with only occasional localized outbreaks and few imported cases. However, as the pandemic continues to spread globally, China still faces the risk of COVID-19 outbreaks before mass immune protection is established.
The adenovirus-based viral vector vaccine technology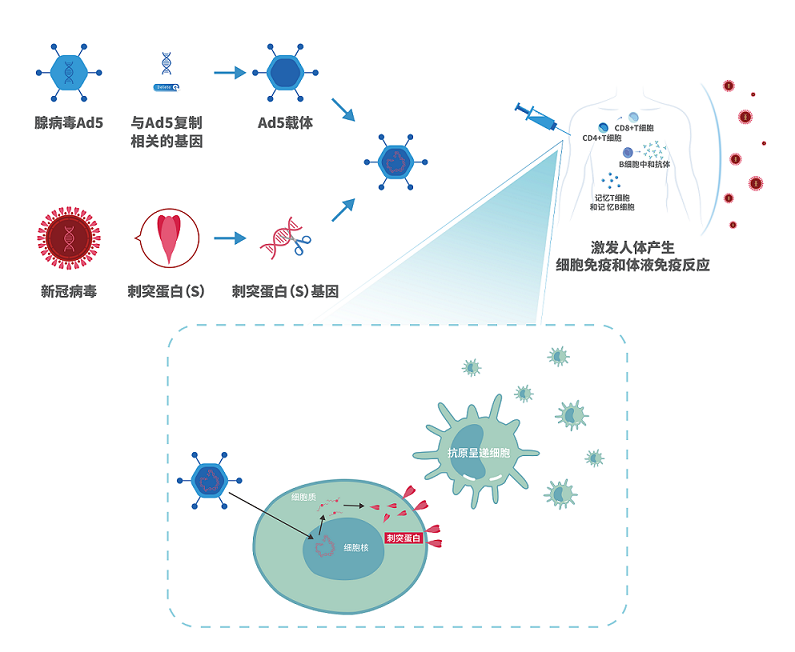 • Genes related to virus replication are removed from the adenovirus type 5 vector to make the vector replication defective in human bodies.
• The gene encoding COVID-19 spike protein (S protein) is inserted at the same location.
• Adenovirus type 5 vector delivers the gene sequence of S protein into human cells.
• Having entered the cells, the gene is transcribed to express the S protein, which serves as an antigen that triggers the host's immune response.
Global multicenter clinical study
Launched in September 2020, the phase III clinical trial of Convidecia is a global multicenter, randomized, double-blind, placebo-controlled, adaptive designed phase Ⅲ clinical trial to evaluate the efficacy, safety and immunogenicity of Convidecia in adults 18 years of age and older. All participants receive a single dose of either Convidecia or a placebo vaccine on Day 0 and are followed to monitor vaccine candidate efficacy and incidence of SAE for a duration of 52 weeks. The primary objective is to measure the efficacy of Ad5-nCoV in preventing virologically confirmed (PCR positive) symptomatic COVID-19 disease, regardless of severity, occurring 28 days to 52 weeks after vaccination. COVID-19 rates in Convidecia group will be compared with COVID-19 rates in the control group. The primary safety objective is to evaluate the incidence of SAE and medically attended adverse events within 52 weeks after vaccination in all participants.
The phase III clinical trial of Ad5-nCoV has vaccinated more than 40,000 volunteers in 78 clinical trial sites across five countries over three continents, and is led by global principal investigator ("PI"), global co-PI and country co-PI from seven countries, and strictly complies with high ethical standards and rigorous scientific principles.
FAQ
1

Why did CanSinoBIO choose to use the technological platform of adenovirus vector to develop COVID-19 vaccine?

Soon after the outbreak of COVID-19, we evaluated platforms for COVID-19 vaccine development, including viral vector and mRNA-based technologies. Due to the severity of the pandemic and the urgent need for an effective vaccine against COVID-19, we wanted a technological platform that would enable us to develop a vaccine with a good safety and efficacy profile in a timely manner. We decided to use the adenovirus vector for COVID-19 vaccine development because we have an established technological platform for the adenovirus vector, based on which we have already developed a TB booster, CVE vaccine, Zika vaccine and the recombinant Ebola vaccine, jointly developed with the Beijing Institute of Biotechnology, Academy of Military Medical Sciences, and which was approved in China in 2017. Leveraging the established technological platform of the adenovirus vector and our experienced team, the development of Convidecia made rapid progress. The project was initiated on January 20th, 2020, and entered Phase I trials on March 16th, 2020, making it the first of its kind worldwide to enter clinical study.

2

What is the mechanism of the adenovirus vector used in Convidecia?

Genes related to virus replication are removed from the adenovirus type 5 vector used in Convidecia so that the vector is replication-defective in the human body. A gene sequence encoding the COVID-19 spike protein (S protein) is inserted into that location. The viral vector serves as a carrier that delivers the gene sequence of S protein into cells. Once it has entered a cell, the gene sequence is transcribed to express S protein, which in turn serves as an antigen that stimulates the immune system to recognize the COVID-19 virus.

3

What precautions should I take before and after getting the COVID-19 vaccine?

①Before vaccination, your doctor will make inquiries about your medical history and health conditions to decide if you are eligible to receive the vaccine. Please make honest disclosures. ②After vaccination, all individuals should be observed for 30 minutes to monitor if any adverse reaction occurs. On the day of vaccination, please keep the injection site dry and clean, and we recommend being well rested. ③Within one week after vaccination, please avoid exposure to your known allergens or other common allergens and minimize the use of alcohol and the intake of spicy food. It is recommended to have a light diet and adequate fluid intake.

4

Who is contraindicated or should postpone getting the COVID-19 vaccine?

Please see the label instructions of respective COVID-19 vaccines for detailed contraindications and strictly follow the instructions. In general, individuals with a known history of severe allergic reactions to any component of the vaccine are contraindicated. Additionally, individuals who have fever, an acute disease or a breakout of an underlying chronic disease should postpone the vaccination.

5

Should individuals wear a mask after receiving the COVID-19 vaccination?

Before mass vaccination reaches a higher level of immune protection, one should maintain awareness to prevent infection and transmission and should maintain personal hygiene habits. Vaccinated or not, one should still wear a mask indoors and follow specified prevention and control measures.

6

Are there adverse reactions to the COVID-19 vaccine?

①The most common adverse reactions after vaccination are fever, redness, swelling and pain in the vaccination site. Usually, a reaction can be relieved by itself within 96 hours, and no special treatment is required. ②If the symptoms are serious or the severity cannot be judged by yourself, one should seek medical treatment immediately and report to the doctor at the vaccination site. ③According to previous experience, serious adverse reactions will occur within 30 minutes after vaccination. Please observe as required and ask for the doctors on site.

7

Should individuals who have a history of allergic reactions get a COVID-19 vaccine?

Any history of allergies will be considered as a precaution. Individuals with a known history of severe allergic reactions to any component of the vaccine are contraindicated. For individuals with common allergies to pollen with symptoms such as blocked nose, runny nose or rash, it is recommended to avoid getting the COVID-19 vaccine during an ongoing allergic reaction or follow your doctor's instructions in the case of mild symptoms.
Related resources and websites